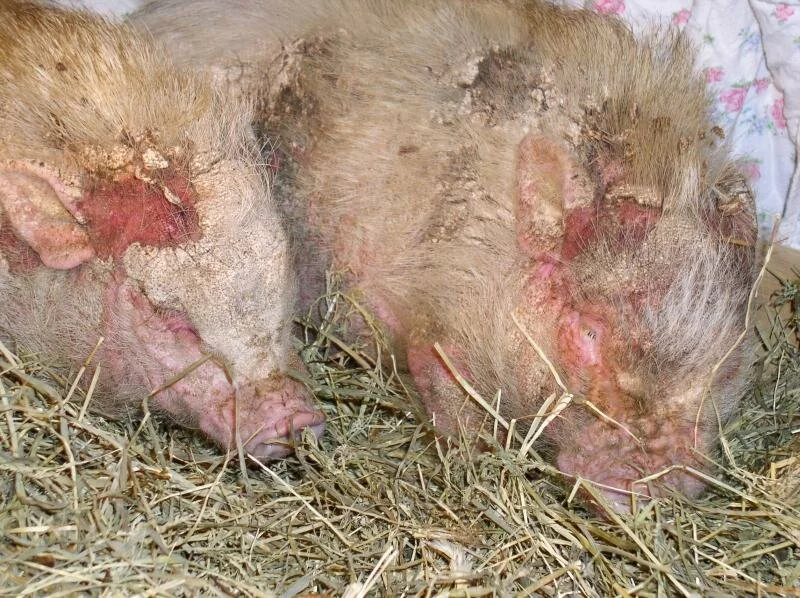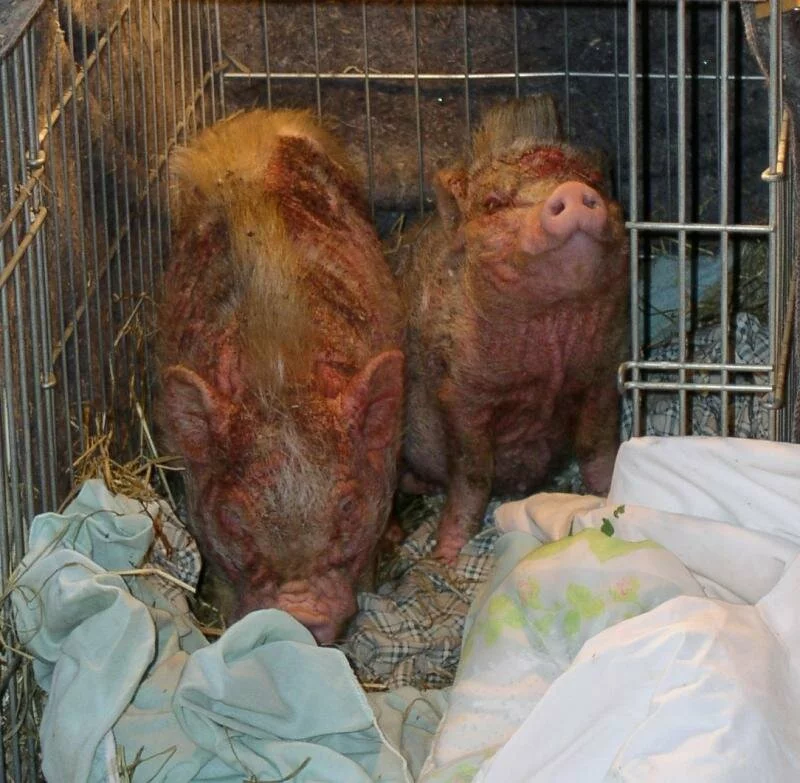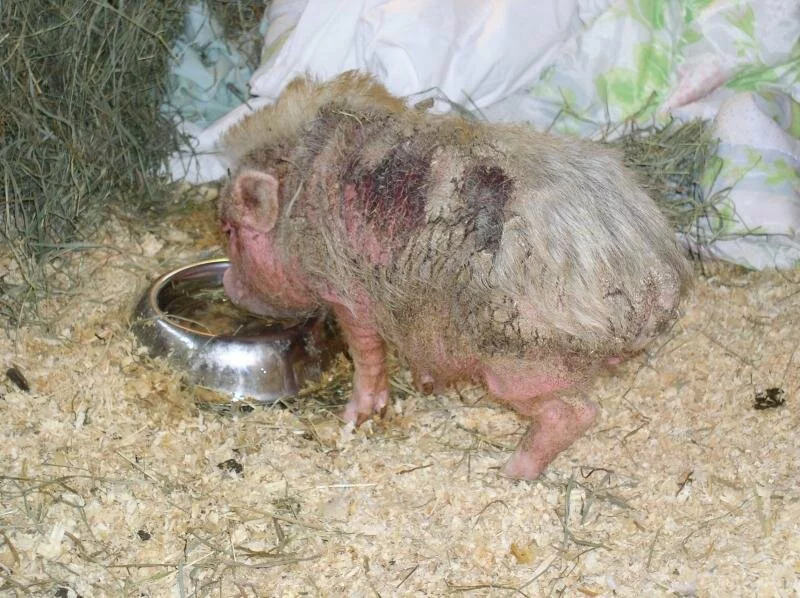 Jack & Jill at Gretchen's on Tuesday, after baths and dip, on the road to a long recovery. They looked like burn victims and it got worse before it got better.
On Tuesday, Feb. 13th, I went to Gretchen's to help with their baths and check on the others. Of the five, Jack and Jill were in the worst condition. Apparently the older pigs, as breeders, were considered more valuable and had been better fed and cared for. Even so, they also had mange. One female was thought to be pregnant and due mid to late March. The other was "iffy" and the third pig was the father of J&J and possibly the pending litter, a white fellow with an adorable face that Gretchen named "Erp". (There is also the chance that Jack fathered the expected litter.) The older pigs had settled in pretty well, happy with full bellies, heat lamps, and deep beds. The babies looked miserable, but continued to eat well and maintain good attitudes. Before I left, I mentioned to Gretchen that the one female looked like she might be closer to delivering than March, and that she might want to start watching her over the next few days to see how things developed. It looked to me like there might be milk coming in, though I had no experience to go by other than our horses. It was just a "feeling" that her time might not be a full month or more away. I was thinking maybe a week or two. She wasn't really "huge" with babies, but her mammary glands appeared to be enlarged.
 Later that night I recieved a wake up call from Gretchen,"We have babies!!!!" She'd gone out after her shower, with wet hair, in "jammies" and thin rubber boots to do a quick bed check. What she thought at first glance was a rat, was a baby pig and more were coming. In all, there were 8 born and 6 survived. Joe and Gretchen spent hours transferring mom and babies into the warm house and getting them settled. Within a couple of days Joe had built a wonderful big box in one of their rooms to house the family. At this point I should mention that Gretchen and Joe already had six extremely well behaved potbellies living in the house. In no time their pig count went from six  to eleven and then to seventeen...with thirteen in the house and two seriously ill "youngsters" and two adults in the garage! For the next several weeks Gretchen had  her hands full, doctoring Jack and Jill, and caring for the babies and the others.